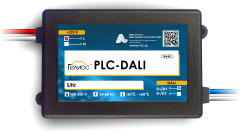 Helios LED lamps control device allows to use the address control of each lamp with the ability to group them and to use of dimming function.
Benefits:
Saving energy up to 40%
Real time remote control and monitoring of individual lamp.
Functionality:
Varying light intensity of each LED lamp individually
On-line monitoring of lamps availability
Different lighting scenarios depending on the situation (time of day, activity on the street, natural lighting).