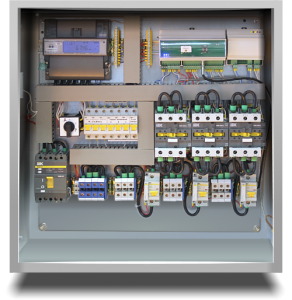 Helios control cabinet is designed to control the outdoor lighting via existing single-phase and three-phase powerlines.
Helios control cabinet include the following:
Helios control unit
Digital power meter
Detector (fire, automatic circuit breaker, open door)
Switch and protective equipment.
Benefits:
Reducing maintenance costs
Centralization of outdoor light control
Optimization outdoor light usage via optimization of lamp turning on/off schedules.
Functionality:
Real time remote control and monitoring of individual lamp and group of lamps
Outdoor lighting management according to schedules
Executing user commands received from Helios server
Detectors scanning
Power meter scanning
Control of network parameters (voltage, current, power)
Operate in online and offline mode.