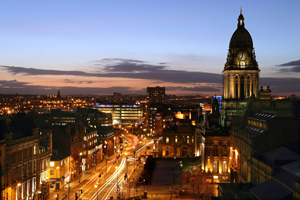 The introduction of smart city technologies continues In the UK. Leeds City Council (Yorkshire, England) is replacing obsolete street lights with LED ones as part of a project to modernize urban infrastructure. An update of 86,000 lighting devices is planned. The amount of investment will be 25.4 million pounds ($ 32 million). Work will begin in September and will last 4 years.
The use of LED lighting is expected to reduce energy consumption in the city by about 62%. Another result of the planned energy-efficient measures should be a reduction in carbon emissions and the achievement of an optimal level by 2030.
Additional investments in the amount of £ 5 million ($ 6.3 million) are aimed at organizing a remote lighting control system using the latest technologies as part of the smart city approach. The introduction of such a system will allow you to control the outdoor lighting network online, as well as integrate with other intelligent solutions, including CCTV cameras, vehicle monitoring, air quality and temperature sensors. This option for the development of Leeds smart city infrastructure is still being discussed.